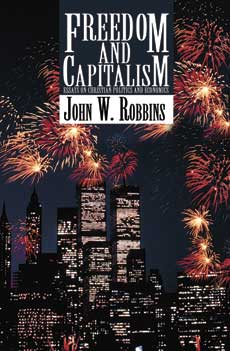 I have been asked by a great number of people for recommendations of works that would provide good intellectual fodder for sound political thought development. Furthermore, I have a number of Christian friends, some who have come to the freedom movement by way of the Ron Paul 2008 campaign and some who are currently being rehabilitated from their time in the "Religious Right," who are seeking a biblically based,Christian approach to governmental and political theory. For both Christian and secular libertarians/conservatives alike, after first advising them to read the Constitution and understand it, I often advise they pick up
Freedom and Capitalism
by former Ron Paul chief of staff, John W. Robbins.
(You can read a nice overview of Robbins
here
from Lew Rockwell's blog)
This book is biblically based, pulls no punches, and does a great job laying out the issues. The table of contents as well as some of the essays can be found
here
.


Freedom and Capitalism
is a collection of essays written over three decades which provides great philosophical reasoning for Christian political libertarianism. At times, you may not agree with Mr. Robbins, but if you give it a good read with an open mind, I believe you will keep coming back to its wisdom for some time to come.
If you are looking for a fairly comprehensive book, covering a broad range of topics, that will be a valued asset in your intellectual development pick up
Freedom and Capitalism
and any other of John W. Robbins' other works on politics or theology.